Welcome to Lore Olympus Wiki!
An encyclopedia of everything from the popular Webtoon Comic Lore Olympus, created by Rachel Smythe. This fan run website is for all fans and readers. We invite you to join our wiki community by exploring, creating, and editing any of our articles! Enjoy your stay!
WARNING: This wiki contains

SPOILERS

! Read at your own risk!
---
There are currently over 9,745 edits and 291 articles. If you would like to contribute to the Lore Olympus Wiki, please sign up and create a personal account or log in!
---
---
To create a new article for the Lore Olympus Wiki, input the title in the box below!
---
Episodes | Locations | Terminology
Featured Article

Titans are immortal, humanoid deities in Lore Olympus. They were the preceding generation of Gods and Goddesses, prior to the Olympians.....


Latest Episode Update!

Persephone goes to the therapist for the first time.

Episode 159 [Season 2]
About Lore Olympus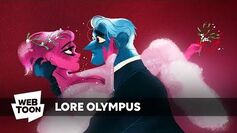 Lore Olympus is a romance webcomic created by Rachel Smythe and published by the webcomic platform Line WEBTOON. The story is a modern retelling of the Greek myth concerning the relationship between the God of the Underworld, Hades, and the Goddess of Spring, Persephone.
Featured Quote
"
Royalty speaking! What will you whisper in my presence?
"

—Hera
External Links
Rachel Smythe´s Twitter
---
Rachel Smythe´s own Twitter, with live personal updates, extra sketches and bonus information.
FAQ
---
Lore Olympus - Official FAQ website
Discord
---
Official LORE OLYMPUS Discord
Helping Out
Wanna help out the fan page? As of December 2021, we have 291 pages. What we currently need on the Lore Olympus wiki is:
Relationship Pages
Grammar edits and article improvement
Expansion of article stubs
More images in page galleries
Affiliated Wikis
If you'd like to affiliate with us, please contact an Administrator.